Express digital imaging plate system
Express. Perfect image. So simple.
• Superb results. Fast.
• Smooth workflow
• All-in-one system
• A safe investment
Express is an intraoral imaging plate system for dental radiography which features the latest technology. It lends itself to all types of dental practices and intraoral imaging needs. The Express can be shared over the network and is very economical for larger practices. The Express imaging plate system is compatible with both AC and DC intraoral X-ray units.

The Express sets the standard in imaging speed. The entire process from reading to erasing is so quick that imaging plates can be unbagged and fed continuously without waiting between images.
Imaging plates have a very wide dynamic range. There are no accidental under or over exposures. Images are automatically processed to bring forth the required diagnostic information. The Express provides superb, consistent clinical results.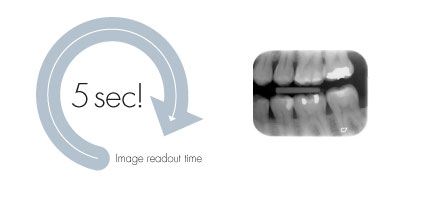 All-in-one system
The Express comes with intraoral imaging plate sizes from size 0 to size 3. All types of patients and anatomies can be successfully imaged with the system. Size 0 plates are particularly convenient with children, and size 3 plates provide a longer view in bitewing imaging.
Flexible placement and network sharing
One Express can be shared with up to 8 users through network.
• Thin, flexible imaging plates
• 100% active area
• No cables
• Plates compatible with film holders
Smooth workflow
1. Image preview
The state-of-the-art display shows a preview of each image, allowing you to instantly verify the correct patient positioning. In a network environment the display also indicates the receiving workstation ID.
2. Plates immediately ready for re-use
The Express automatically erases imaging plates after image readout. Imaging plates are ready for immediate reuse.
3. No need to touch
The Express keeps you focused on your patient and ensures complete hygiene. The system automatically prepares itself for capturing an image when you approach it with the imaging plate. No buttons need to be touched! Pat.pend.
4. Guided Plate Feed (GPF) function
The system actively guides the user to insert imaging plates with the right orientation and indicates if the user tries to insert them incorrectly. There is no risk of lost or low-quality images due to incorrect feeding of imaging plates.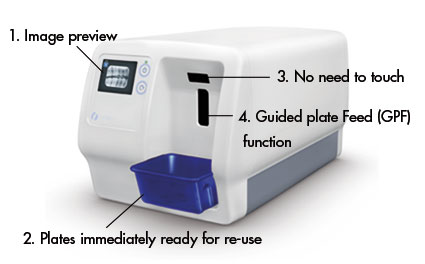 Full set of accessories
Patented iDot system
Avoid retakes with the unique iDot marking system. The iDot marking enables one to trace back which imaging plate was used to capture a specific image. Damaged plates can be effortlessly identified and replaced.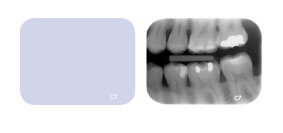 Accessories
Imaging plates
• Protective covers
• Hygiene bags
• Imaging plate storage box
• Wall mount kit
• Plates compatible with film holders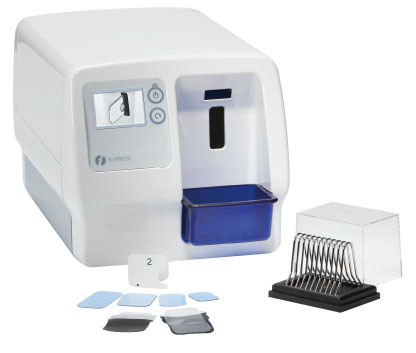 Simple workflow with accessories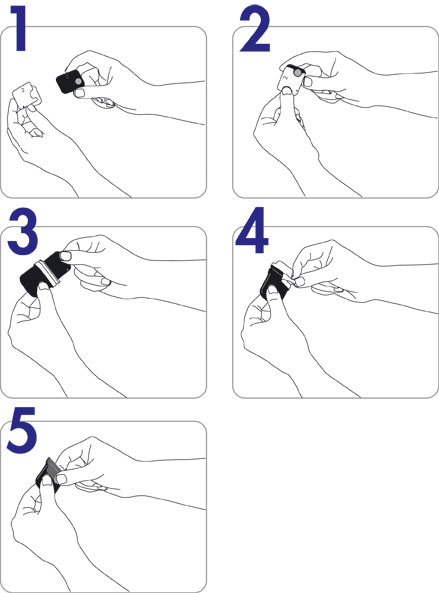 Safe investment
Scratch-resistant imaging plates
The Express utilizes the latest know-how in imaging plate technology. The imaging plates are very scratch resistant and provide high quality diagnostic results time and time again.
A cost-efficient system
The system communicates via the local area network, and it is not tied to a specific PC as USB-connected systems are. Up to 8 workstations can share one Express over the network, offering a very cost-effective imaging solution for practices with multiple operatories.
Flexible placement at the office
The Express is very compact. In addition to the desktop, it can be placed into a cabinet, on the wall or under the desktop.
Experience at your service
As all Instrumentarium Dental products, the Express has been designed with great attention to detail. The system will provide you with years of high quality diagnostic results. Choose the Express and you will not need to look back!