Orthopantomograph® OP300
- A platform for your changing needs
The Orthopantomograph® OP300 is the most comprehensive 3-in-1 platform designed for today and tomorrow.

The OP300 combines an advanced panoramic imaging system with either cephalometric or cone beam 3D or a combination of both, giving you a truly adaptable platform. In addition, all of these options can be upgraded in the field after the initial purchase.


Gold standard image quality

Confident diagnosis

Complete versatility
50 years of experience in panoramic imaging
| | | |
| --- | --- | --- |
| | | The Orthopantomograph®, introduced 50 years ago, was a revolutionary groundbreaker and pacesetter for dental panoramic X-ray imaging. Today, Orthopantomograph® is regarded as the leading name in the panoramic X-ray world and often used even as a synonym for panoramic X-ray units. |
Confident diagnosis
Two available fields-of-view with 3D option

6 x 4 cm - a small FOV optimized for local diagnostics single implant planning, 3rd molar extractions and endodontic procedures, keep the patient dose at a substantially reduced level.

6 x 8 cm - FOV covering complete dental arch for multiple implant placement and operations using surgical guides.

Two available resolutions

Both FOV sizes are high enough to easily cover the jaw bone and occlusion level. For both FOV sizes it is possible to choose between two resolutions:
• Standard scan takes only 10 seconds with exposure time only 2.3 seconds with optimized patient dose
• High resolution scan offers extremely sharp images for more detailed diagnosis




SmartView™
A two dimensional scout image is taken before the 3D examination to adjust the target position visually from GUI screen. This guarantees precise positioning and eliminates risk of retake exposures.
Select freely FOV position from GUI.
Fine tune FOV position from GUI.
SmartViewTM takes two dimensional scout of the selected area.

3D
Two fields-of-view combined with integrated motorized chin rest enable free FOV positioning within maxillofacial area. This ensures multiple different modalities from 3D TMJ analysis into implant planning with drilling guides.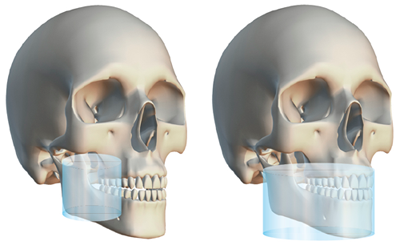 Unsurpassed cephalometric results
A scanning cephalometric option combined with a powerful X-ray generator and tube head offers unsurpassed visibility of tracing key reference points for orthodontic treatment planning. In addition, dose optimization is carried out by an adjustable scanning area and AFC (Automatic Facial Contour).


Fully adjustable scanning

Full range of projections: lateral ceph, AP/PA, obliques.
Fully adjustable scanning area ensures that by exposing only the required region, patient safety is greatly increased.
Automatic facial contour (AFC) decreases exposure factors in the facial soft tissue region to provide improved visibility of soft tissue tracing points in addition to a reduction in patient dose.

| | | |
| --- | --- | --- |
| Only 43 - 32% dose with pediatric ceph | 52 - 38% dose with standard lateral ceph | 100% dose, typical lateral full scan |
Dimensions